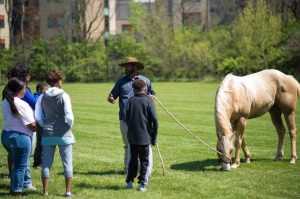 Provided by Frankie's Corner Little Thoroughbred Crusade
Through collaboration with employers and educational entities, a horse care apprenticeship program has been registered with the Kentucky and United States Departments of Labor. This opportunity, aimed at providing "earn and learn" training in horsemanship, is an Industry Recognized Apprenticeship Program for individuals interested in working in the horse industry. Given the constant uncertain availability of H-2B visas in the United States, an avenue which has historically been critical to Kentucky's equine industry workforce, the creation of this apprenticeship program is another tool in training a domestic workforce.
The Horse Trainer (Horseman) Apprenticeship (O*Net-Soc Code: 39-2011.00 Rapids Code: 1001) encompasses 2,000 hours of careful employer-structured competencies during which an apprentice can attain industry-recognized skills needed to successfully begin or continue a career in any horse related industry sub-sector, such as: racing, breeding, showing and other similar disciplines.
While on the job, apprentices will learn or improve their skills in areas such as: horse handling, feeding and nutrition, proper grooming and exercise, identification of disease or illness, basic health care and medical treatments and facility care and maintenance. This program was created to produce a well-rounded, competent horseman capable of excelling in any facet of the equine industry.
Advantages for apprentices include:
Earn while you learn at your own pace
Learn the skills horse industry employers have shown they are seeking
Advancement within the industry promoting an increased future earning potential
Faster access to state mandated occupational licensing
Advantages for employers include:
Customized training
A skilled workforce educated by industry experts
Improved productivity and lower turnover
This apprenticeship is the result of collaboration between the Kentucky Chamber of Commerce Workforce Center/Kentucky Equine Education Project's Equine Talent Pipeline Workforce Initiative, the Bluegrass Community and Technical College Workforce Solutions / North American Racing Academy and equine employers across the industry. Apprenticeships have been utilized in various industries across the United States for decades, providing education and training within the setting that knows best, the workplace. The horseman apprenticeship elevates the Kentucky equine industry to a higher tier, allowing any individual the opportunity for world-class, hands-on learning.
After the initial launch, in order for the program to continue to grow, we have taken strategic steps to help educate people on its benefit. We plan on offering educational webinars and developing one-pagers that speak to apprenticeships in general, as well as the specifics of the Horseman Apprenticeship. These outlets will enable any person or population to learn more about the program and register as either an employer or apprentice. In addition, to support employers where they are, it is our hope to have one-on-one conversations and site visits with them so that we may help them develop the best program for their facility's needs.
The Horseman Apprenticeship is an educational tool that can be utilized by numerous populations and we will engage with ones such as high school agriculture programs, department of corrections, Kentucky Horse Council, as well as 4-H and FFA programs. Through community engagement and education the program will continue to grow and produce qualified individuals for work in any facet of the equine industry.
Resources
Kentucky Registered Apprenticeship